How It Works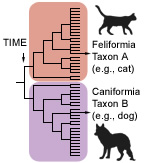 Two species or higher taxa are queried (e.g., cat and dog).
TimeTree compares all taxa in one inclusive group (e.g., Feliformia) with those in the other group (e.g., Caniformia) to find all published times of divergence for the evolutionary split.
Citing TimeTree:
Hedges SB, Marin J, Suleski M, Paymer M & Kumar S (2015) Tree of Life Reveals Clock-Like Speciation and Diversification. Mol Biol Evol 32: 835-845
[Download PDF]
Kumar S & Hedges SB (2011) TimeTree2: species divergence times on the iPhone. Bioinformatics 27:2023-2024
[Download PDF]
Hedges SB, Dudley J & Kumar S (2006) TimeTree: a public knowledge-base of divergence times among organisms. Bioinformatics 22:2971-2972
[Download PDF]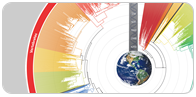 The TimeTree of Life from an assembly of all individual timetrees from the Time Tree of Life book. Order an offset print or download the file to print your own.